Let's talk about trends & the place they have in your wardrobe! I believe that once you nail the basics of your lean closet, it's important to leave yourself a little room to experiment. Style is a way to express yourself, and it should be fun!
I won't claim to be a minimalist. I don't have a 5 piece French wardrobe (or a 33 piece seasonal capsule wardrobe). If you have the self control to pull it off, I admire your willpower! But I try not to take myself (or my closet) so seriously, and I prefer to leave some wiggle room for sartorial experimentation.
So how do I pull off trends without losing myself? It's a simple rule (I made it up!) called the 80/20 rule. At any given time my closet consists of 80% basics, 20% fun.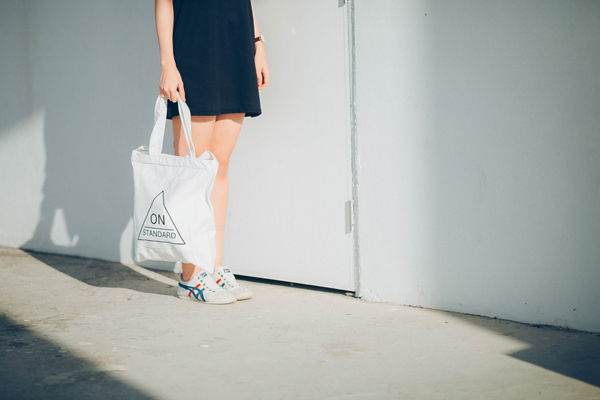 The 80%
At minimum, 80% of your wardrobe should follow the principles laid out in the lean closet series. That means a foundation of staple pieces that are true to your personality & functional for your lifestyle. These are the items you'll wear for years to come, mix and match, and build your daily outfits from.
My lean closet essentials: high rise jeans & silk button down shirts.
The 20%
Keep 20% (ish – it's not an exact science) of your wardrobe open to trying something new. That doesn't mean you have to try every trend that comes along, but when something strikes your fancy there's no need to deprive yourself! True to my method of shopping with intent, I like to make a shopping list to plan out my seasonal updates. Adding in some key trend pieces is a great way to keep your wardrobe staples feeling fresh!
My personal update list for spring 2016: kick flares, Adidas sneakers, and another pair of Birkenstocks (at this point I don't care if they go off trend – I adore them!).
Why it works
The real mistake I see women make is relying too heavily on what's trendy. If more than 20% of your closet is trend based, then it's easy to lose sight of your personal style because you're too busy keeping up. Wear what you love wearing, not what you think you're supposed to be wearing.
If you're on the fence about certain trends, refer to your personal style guide & Pinterest mood board, because a well defined sense of style will always guide you in the right direction!
By Jesica